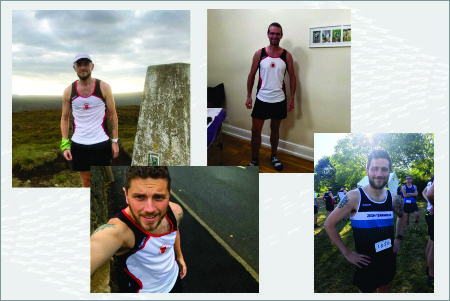 Nipple Bleeders, Chaffing, Team Mucky Pups and the creation of a newly designed club vest for PFR!
We have had several manufacturers of our club vests over the years, indeed the first design was literally 'hand made' by using a plain white vest, getting the logo printed and stitched on and adding some black and red ribbon up the sides – the PFR vest was born!  Times, fabrics and design have evolved and the club membership has increased!  When I took over looking after the club kit a few years ago I wanted to see if we could introduce a few 'new' kit items, maybe redesign the look of the club vest and generally ramp up our Brand Image.
We started to work with Zeon Teamwear in 2016 and introduced our current vest, T Shirt, winter training top and hoodie (link to custom made hoodies).  When you are looking after the kit for a club and spending someone else's money it is important to listen to everyone and if you feel that improvements can be made take them forward. Which is why, earlier this year, having received comments from a few members about the vests I felt it necessary to review the design, fabric and fit.  You will never get a fit that is 100% for everyone but I want to get it right for as many of you as possible. The current design, fit and fabric is great but there are a lot of seams and the branding is printed on the vests.
I met up with Zeon Teamwear to discuss the current design and look at alternative options for vest design and fabric.  Having discussed this with PFR Executive Committee (Steve Dickinson, Martyn Cartwright and Pauline Senior) we decided to put together a group of runners to
extensively try out an alternative vest design/fabric. The 'Mucky Pup Team' was recruited: Martin Ball, Dan Limb, Damien Briscoe (top nipple bleeder), Gary Briscoe and of course me.
Comments of trial vest (Link to Running Vests):
The trial vest was 'sublimated' – the colour/print/design is integral to the fabric. So no stitched on logos, printed on logos or stitched in colour sections.  The only seams being those at the side.  The fabric used was different to that of our current vests and slightly more light weight with improved ability to wick away sweat. So what not to like!
Dan Limb – 14.5 miles, hot, humid conditions, vest performed well.  Wicking good as I was absolutely dripping during the race but the vest did not feel waterlogged. Good airflow through the vest.
Martin Ball – Not restrictive, length feels right, sweat wicking – does the job, no nipple bleed or other sore bits. Vest performed well on a 5 mile tempo run on the TPT.
Gary Briscoe – Tough workout for the vest. Fell on some rocks, slid down on my back – no damage to the vest. Fabric light enough not to notice it on top of a base layer.
Damien Briscoe – Vest worn during a 15 mile race on a hot day. I am bad in the heat and even taking into consideration the black trial vest I felt comfortable all the way around. NO NIPPLE RUB!
The trial vest was extensively put through its paces by the 4 guys above over multiple terrains and many washes. I have highlighted some of the feedback provided (see above). Overall the feedback was extremely positive and myself and the committee agreed to move the existing vest over to the new design. The trial and design process took about 4 months so we have not rushed to make any changes. So a new PFR vest has been created and is gradually coming into stock. This vest is slightly more expensive than the previous ones and after club discount is £21.00. It is being introduced by size, so as I run out of stock of the current style I am replacing it with the new ones. Initial comments on the performance of the new PFR vest are: On a tough 12 mile session over the moors, with a backpack, I felt cool at the way and the vest held the sweat without clinging and it dried quickly.  No chaffing, no nipple rub so a big thumbs up from me.