ZEON NxGen (Next Generation) Fabric System – Exclusive to ZEON
The Technical Story
The body operates most efficiently at a temperature of 37 degrees.
NxGen fabrics control your core temperature during peak performance by utilising venting channels allowing air to circulate close to the body for maximum breathability. Moisture Management System pulls sweat away from the skin to the outside face of the fabric allowing it to evaporate into the atmosphere.
The one thing we know is the weather in the UK will change. Some play indoors in extreme heat and others outside in the freezing cold. We have fabrics for all conditions.
The full range of NxGen fabrics is displayed below.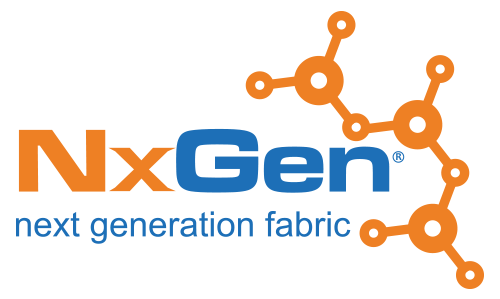 NxGen – Core Temperature Control
NxGen 160
Zeon // Our Best Performing Teamwear Fabric (160g)
Moisture Management – Breathable – Quick Dry – High Stretch – Easy Care
RANGE OF COLOURS: Available in the following colours (Please request a swatch as colours are approximate):
SPORT NAVY
SCHOOL NAVY
ROYAL
REFLEX BLUE
PALE BLUE
CYAN
RED
DARK RED
PETROL BLUE
WHITE
GREY
CHARCOAL
BLACK
CAMBS BLUE
SPORT MAROON
SCHOOL MAROON
PURPLE
DARK PINK
HOT PINK
BABY PINK
FLO PINK
CREAM
CRANBERRY
BROWN
SPORT BOTTLE
SCHOOL BOTTLE
EMERALD
SAGE GREEN
LEAF GREEN
FLO GREEN
ORANGE
CHOCOLATE
GOLD
SUNBURST
SUNSHINE
FLO YELLOW
NxGen 290
Zeon // Heavyweight Performance Teamwear Fabric perfect for Rugby & Ice Hockey (290g)
Moisture Management – Breathable – Quick Dry – High Stretch – Easy Care
RANGE OF COLOURS: Available in the following colours (Please request a swatch as colours are approximate):
SPORT NAVY
WHITE
ROYAL
REFLEX BLUE
PALE BLUE
CYAN
RED
BERRY
AMBER
CANARY
GREY
CHARCOAL
BLACK
ORANGE
SPORT MAROON
CHOCOLATE
PURPLE
SPORT BOTTLE
HOT PINK
BABY PINK
EMERALD
MYRTLE GREEN
CRANBERRY
BROWN
NxGen 220
Zeon // Medium Weight Performance Teamwear Fabric perfect for Training Gear (220g)
Moisture Management – Breathable – Quick Dry – High Stretch – Easy Care
RANGE OF COLOURS: Available in the following colours (Please request a swatch as colours are approximate):
SPORT NAVY
WHITE
ROYAL
REFLEX BLUE
PALE BLUE
CYAN
RED
BERRY
AMBER
CANARY
GREY
CHARCOAL
BLACK
ORANGE
SPORT MAROON
CHOCOLATE
PURPLE
SPORT BOTTLE
HOT PINK
BABY PINK
EMERALD
MYRTLE GREEN
CRANBERRY
BROWN
CREAM
NxGen 140 (EYEDROPLET)
Zeon // Robust Eyelet Fabric perfect for Schoolwear & Corporate Uniform (180g)
Airflow – Breathable – Quick Dry – Easy Care
RANGE OF COLOURS: Available in the following colours (Please request a swatch as colours are approximate):
SPORT NAVY
SCHOOL NAVY
ROYAL
REFLEX BLUE
PALE BLUE
CYAN
RED
DARK RED
PETROL BLUE
WHITE
GREY
CHARCOAL
BLACK
CAMBS BLUE
SPORT MAROON
SCHOOL MAROON
PURPLE
DARK PINK
HOT PINK
BABY PINK
FLO PINK
CREAM
CRANBERRY
BROWN
SPORT BOTTLE
SCHOOL BOTTLE
EMERALD
SAGE GREEN
LEAF GREEN
FLO GREEN
ORANGE
CHOCOLATE
GOLD
SUNBURST
SUNSHINE
FLO YELLOW
NxGen 130
Zeon // Super Light Teamwear Fabric perfect for Athletics & Indoor Sports (120g)
Moisture Management – Breathable – Quick Dry – High Stretch – Easy Care
RANGE OF COLOURS: Available in the following colours (Please request a swatch as colours are approximate):
SPORT NAVY
WHITE
SPORT ROYAL
CYAN
HOT PINK
SPORT MAROON
RED
LEAF GREEN
PURPLE
BLACK
CHARCOAL
SPORT BOTTLE
NxGen 120
Zeon // Super Light Eyelet Fabric perfect for Performance Venting (120g)
Cool Airflow – Breathable – Quick Dry – High Stretch – Easy Care
RANGE OF COLOURS: Available in the following colours (Please request a swatch as colours are approximate):
SPORT NAVY
WHITE
PURPLE
BLACK
DARK GREY
SPORT MAROON
RED
NxGen – Mesh Fabrics used as venting panels to regulate heat
Super Light Mesh
Zeon // Super Light Mesh Fabric perfect for High Performance Venting Panels
Airflow – Breathable – Quick Dry – High Stretch – Easy Care
RANGE OF COLOURS: Available in the following colours (Please request a swatch as colours are approximate):
SPORT NAVY
WHITE
BLACK
CHARCOAL
RED
Lightweight Mesh
Zeon // Mid Weight Mesh Fabric perfect for Performance Teamwear Venting Panels (120g)
Airflow – Breathable – Quick Dry – High Stretch – Easy Care
RANGE OF COLOURS: Available in the following colours (Please request a swatch as colours are approximate):
SPORT NAVY
MID NAVY
ROYAL
SPORT BOTTLE
CYAN
SKY BLUE
RED
WHITE
CANARY
GOLD
GREY
CHARCOAL
BLACK
ORANGE
SPORT MAROON
BERRY
PURPLE
EMERALD
BABY PINK
LEAF GREEN
HOT PINK
REFLEX BLUE
SUNSHINE
Heavyweight Mesh
Zeon // Heavyweight Mesh Fabric perfect forRugby Venting, Ice Hockey & lacrosse (160g)
Airflow – Breathable – Quick Dry – High Stretch – Easy Care
RANGE OF COLOURS: Available in the following colours (Please request a swatch as colours are approximate):
SPORT NAVY
WHITE
ROYAL
SPORT BOTTLE
PALE BLUE
SKY BLUE
RED
CHOCOLATE
SUNBURST
GOLD
GREY
DARK GREY
BLACK
ORANGE
SPORT MAROON
BURGUNDY
PURPLE
EMERALD
BABY PINK
CREAM
NxGen – Baselayer Stretch Fit Fabrics
NxBASE-190
Zeon // Poly Elastane Lightweight Compression Fabric perfect for Training Gear (190g)
Moisture Management – Breathable – Quick Dry – High Stretch – Easy Care
RANGE OF COLOURS: Available in the following colours (Please request a swatch as colours are approximate):
SPORT NAVY
WHITE
SPORT ROYAL
BABY PINK
DARK GREY
SPORT MAROON
RED
PURPLE
BLACK
SPORT BOTTLE
NxBASE-290
Zeon // Poly Elastane Compression Fabric perfect for Training Gear (290g)
Moisture Management – Breathable – Quick Dry – High Stretch – Easy Care
RANGE OF COLOURS: Available in the following colours (Please request a swatch as colours are approximate):
SPORT NAVY
WHITE
SPORT ROYAL
SCHOOL ROYAL
PALE BLUE
SPORT MAROON
RED
GOLD
PURPLE
GREY
BLACK
SPORT BOTTLE
EMERALD
NxGen – Perfect for Hoodies and Warm-up Tops
Brush Fleece
Zeon // Heavyweight Luxury Fleece ideal for Hoodies (330g)
Thermal – Soft Touch – Easy Care
RANGE OF COLOURS: Available in the following colours (Please request a swatch as colours are approximate):
SPORT NAVY
BLACK
ROYAL
EMERALD
PALE BLUE
SKY BLUE
RED
WHITE
GOLD
SPORT BOTTLE
GREY
DARK GREY
CHOCOLATE
ORANGE
SPORT MAROON
BURGUNDY
PURPLE
SUNBURST
PINK
BABY PINK
CREAM
NxTECH-230
Zeon // Lightweight Performance Fabric perfect Fusion Tops, Hoodies & Gilets (230g)
Moisture Managment – Breathable – Soft Touch – Easy Care
RANGE OF COLOURS: Available in the following colours (Please request a swatch as colours are approximate):
SPORT NAVY
MID NAVY
ROYAL
LEAF GREEN
SKY
CYAN
RED
WHITE
SPORT BOTTLE
OCEAN GREEN
ZEST
CHARCOAL
BLACK
REFLEX BLUE
SPORT MAROON
CRANBERRY
AMBER
CANARY
CREAM
NxTECH-300 (SOFT SHELL)
Zeon // Heavyweight Performance Fabric ideal for Training Jackets & Gilets (300g)
Waterproof – Windproof – Breathable – Quick Dry – Easy Care
RANGE OF COLOURS: Available in the following colours (Please request a swatch as colours are approximate):
SPORT NAVY
CHARCOAL
BLACK
NxTECH-360
Zeon // Heavyweight Performance Fabric perfect Fusion Tops, Hoodies & Gilets (360g)
Thermal – Showerproof – Windproof – Soft Touch – Easy Care
RANGE OF COLOURS: Available in the following colours (Please request a swatch as colours are approximate):
SPORT NAVY
ROYAL
EMERALD
CYAN
SKY BLUE
RED
WHITE
GOLD
SPORT BOTTLE
SMOKE GREY
CHARCOAL
BLACK
SPORT MAROON
PURPLE
DARK PINK
CREAM
NxGen – Jacket, Tracksuit and Training Bottom Fabrics
Microfibre Showerproof
Zeon // Medium Weight Performance Fabric ideal for Tracksuits & Training Bottoms (130g)
Showerproof – Windproof – Breathable – Quick Dry – Easy Care
RANGE OF COLOURS: Available in the following colours (Please request a swatch as colours are approximate):
SPORT NAVY
MID NAVY
ROYAL
REFLEX BLUE
SKY BLUE
CYAN
RED
BERRY
WHITE
PETROL BLUE
GREY
CHARCOAL
BLACK
POWDER BLUE
SPORT MAROON
BURGUNDY
PURPLE
MINT
HOT PINK
BABY PINK
ORANGE
CREAM
CHOCOLATE
BROWN
SPORT BOTTLE
SCHOOL BOTTLE
EMERALD
SAGE GREEN
LEAF GREEN
AMBER
CANARY
SUNSHINE
Taslan Showerproof
Zeon // Medium Weight Performance Fabric ideal for Training Jackets & Gilets (110g)
Showerproof – Windproof – Breathable – Quick Dry – Easy Care
RANGE OF COLOURS: Available in the following colours (Please request a swatch as colours are approximate):
SPORT NAVY
MID NAVY
ROYAL
REFLEX BLUE
SKY BLUE
CYAN
RED
BERRY
WHITE
PETROL BLUE
GREY
CHARCOAL
BLACK
POWDER BLUE
SPORT MAROON
BURGUNDY
PURPLE
MINT
HOT PINK
BABY PINK
ORANGE
CREAM
CHOCOLATE
BROWN
SPORT BOTTLE
SCHOOL BOTTLE
EMERALD
SAGE GREEN
LEAF GREEN
AMBER
CANARY
SUNSHINE
NxTECH-170 (WATERPROOF TASLAN)
Zeon // Heavyweight Performance Fabric ideal for Waterproof Jackets (170g)
Waterproof – Windproof – Taped Seams – Easy Care
RANGE OF COLOURS: Available in the following colours (Please request a swatch as colours are approximate):
SPORT NAVY
BLACK
SCHOOL ROYAL
SPORT NAVY
CYAN
SKY BLUE
RED
WHITE
PURPLE
SPORT BOTTLE
EMERALD
GREY
CHARCOAL
ORANGE
SPORT MAROON
BURGUNDY
GOLD
SUNBURST
BABY PINK
NxTECH-160
Zeon // Mediumweight Performance Fabric ideal for Training Jackets (170g)
Showerproof – Windproof – Breathable – Easy Care
RANGE OF COLOURS: Available in the following colours (Please request a swatch as colours are approximate):
SPORT NAVY
WHITE
SPORT ROYAL
SKY
LEAF GREEN
SPORT MAROON
RED
GOLD
VIOLET
BLACK
CHARCOAL
SPORT BOTTLE
NxTECH-60
Zeon // Super Lightweight Performance Fabric ideal for Training Jackets (170g)
Showerproof – Windproof – Breathable – Easy Care
RANGE OF COLOURS: Available in the following colours (Please request a swatch as colours are approximate):
SPORT NAVY
WHITE
SPORT ROYAL
BLACK
SPORT MAROON
RED
Dobby Ripstop
Zeon // Mediumweight Performance Fabric ideal for Waterproof Jackets (170g)
Waterproof – Windproof – Taped Seams – Easy Care
RANGE OF COLOURS: Available in the following colours (Please request a swatch as colours are approximate):
SPORT NAVY
SPORT BOTTLE
DARK GREY
BLACK
PALE BLUE
SPORT MAROON